Please check out the reviews on Amazon regarding: A Dictionary of Civil, Water Resources & Environmental Engineering: Click here
PREVIOUS EXAM TAKER REVIEWS: Below are some of the reviews personally emailed to Golden Ratio Publishing:
Fall 2014 Civil PE exam:
"

Yes, I used your dictionary about 5 times. There were questions about bacteria in water and environmental terms I had never heard of.

"

"

My afternoon discipline was geotechnical. I did use a dictionary- your dictionary in fact. I can't remember what I looked up, but I do remember getting two or three answers from the book.

"

"

I brought a dictionary. My feeling about the dictionary is simple, if there's a 1% chance I can use it to get 1 question right I am taking it with me.  I will not get an easy question wrong because I was too lazy to bring it.  If I didn't have one I would have certainly bought one.  Passing the PE will help me get a raise, which would have covered the cost of a dictionary anyway.

"

"

Just wanted to drop you a line and let you know I passed the PE. Hoorayy!! Anyways just wanted to thank you and feel your class was the force that was needed to get those extra points and pass the test.  Your book was used on a few questions and I'm sure those few questions helped me get to a passing grades.

"
Spring 2013 Civil PE exam:
"I used it to confirm 2 morning questions and 4 afternoon! I really felt it was a must have for the afternoon especially to help with those environmental terms."

"I'm really glad your dictionary was helpful!  I used a scientific dictionary on my first attempt and it didn't help with any words I looked up."

"I used it on the NCEES practice exam and it was helpful."

"I tabbed your dictionary and the CERM's appendix with little tabs that have the alphabet. Probably saved me a few minutes at the end when I was scrambling for answers!"
Finally two reviews from National PE review course instructors regarding: A Dictionary of Civil, Water Resources & Environmental Engineering.
"One of my students told me he felt he did not pass the exam the first time because he didn't have a book like that to help define some of the environmental terms in the qualitative questions. But he'll be prepared for that this time. Thanks."

"Excellent reference for the Civil PE Exam. Definitions are always a component of the Water Resources/Environmental depth exam."
Booklist Review, May 2013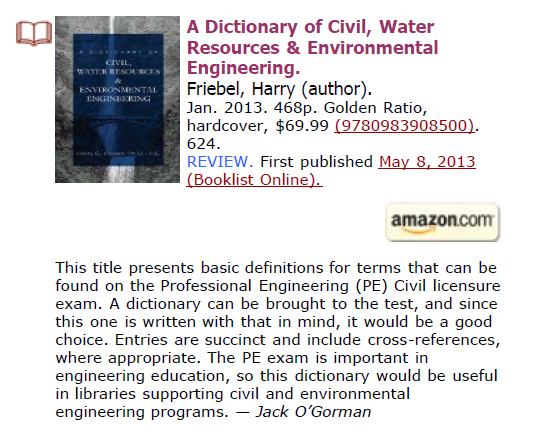 Midwest Book Review, Volume 12, Number 5, May 2013 
About the Author
Harry C. Friebel, Ph.D., P.E., is a Hydraulic Engineer and a Civil – Water Resources and Environmental Engineering – P.E. review course instructor. Dr. Friebel has formerly taught Hydraulic Design to both undergraduate and graduate students.
Please send an email to: info@goldenratiopublishing.com to be added to our mailing list. You will be notified when new products become available.